Costa Rica Beaches
Costa Rica can boast to having the one of the best selections of beaches in the world. I have personally visited a number of them already and they have found them all fascinating. There is so much to do and so much to see that every single minute of the day is enjoyed. Apart from Playa Grande where Casa Serena is set, I have prepared a selection of the top beaches located in the Guanacaste area and that are easily accessible from the villa.
Playa Conchal
Playa Conchal is a unique beach located in Flamingo, which is a 20-minute drive from Casa Serena. Its name derives from the word 'concha' or shell in English. The beach is covered with soft shells that you can easily walk on experiencing an amazing feeling on your feet. Once you start walking towards the Westin Reserva Conchal Hotel, the sand becomes softer and whiter. This is a very popular spot for both locals and tourists who blend together in an amicable way creating a nice atmosphere. You can try snorkeling amongst the rocks where there is lots of colorful fish and coral, or enjoy a relaxing massage under your private cabana on the sand. There are locals selling cold beer, fresh coconuts and some even set up their portable BBQs on the sand and sell meat and fish skewers. Playa Conchal is a perfect beach at which to spend the whole.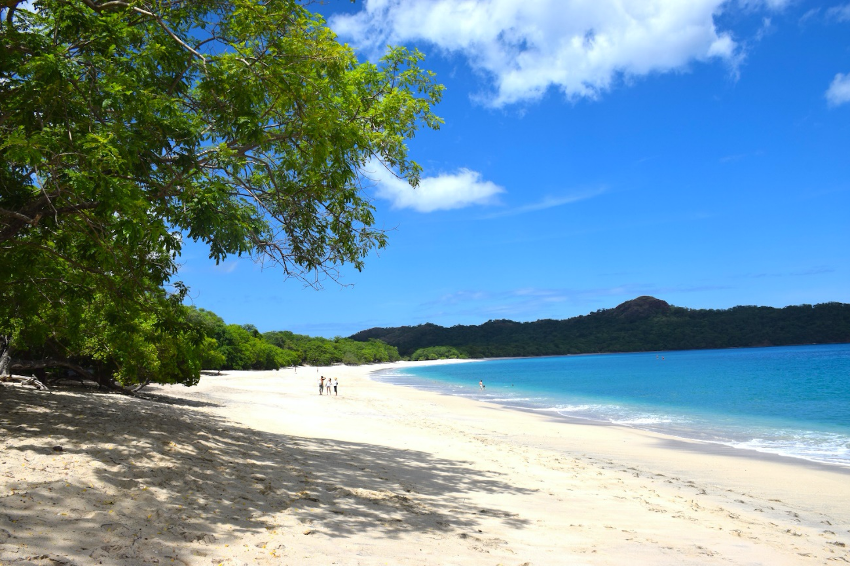 Playa Avellanas
You will need to drive for 45 minutes to get to Playa Avellanas from Casa Serena, but I very much recommend you do so. It is a fantastic place to spend the day and experience beach pleasures. It is a haven for surfers, especially for professionals and the advanced as the waves are fantastic. It is also a lot of fun to simply sit on the beach and watch them ride those waves! The sand is white and very clean, however even if you are an experienced swimmer I suggest you take care as there are often strong currents. A perfect spot for a family outing, you can enjoy a great lunch/dinner at Lola's restaurant where you will meet Lola the famous pet pig. Weighing more than 400 kilos, Lola likes to swim and join guests at their table. It's all fun and hygienic enough, if you are open for a laugh!